Lemon Risotto with Shrimp and Asparagus. When life gives you lemons, make risotto. The clean, citrusy spark brightens both the asparagus and the shrimp (though you can omit the shrimp to turn this from a main course into a side dish). Transfer asparagus with a slotted spoon to an ice bath to stop cooking, then drain.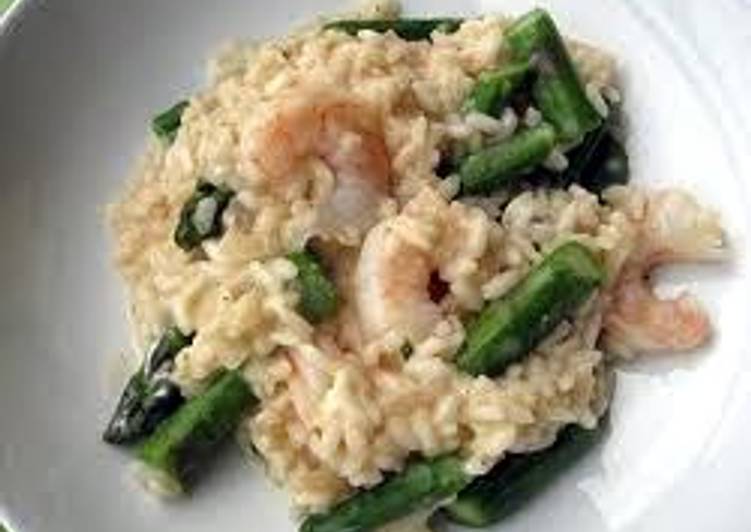 Fold in the asparagus and shrimp. Remove from heat; stir in cheese and juice. The bright, fresh flavors of asparagus and lemon permeate this creamy rice dish. You can have Lemon Risotto with Shrimp and Asparagus using 14 ingredients and 6 steps. Here is how you cook that.
Ingredients of Lemon Risotto with Shrimp and Asparagus
It's 1/2 lb of pencil-thin asparagus.
You need 8 oz of large shrimp, in there shells.
Prepare 6 tsp of extra-virgin olive oil.
Prepare 6 cup of low-sodium chicken broth.
It's 1 large of sprig of thyme or lemon thyme.
Prepare 1 of shallot (diced).
It's 1 1/2 cup of Arborio rice.
It's 1 pinch of kosher salt.
It's 1 pinch of ground pepper.
Prepare 1/4 cup of dry vermouth.
Prepare 2 tsp of lemon zest (finely grated).
Prepare 2 tbsp of (1/4 stick) unsalted butter.
You need 2 tbsp of fresh lemon juice.
Prepare 2 tbsp of fresh chopped flat-leaf parsley.
Try not to rush this dish, it's worth the wait. Increase the heat and bring to a boil, stirring often. Stir the risotto frequently to prevent sticking. Remove asaparagus and shrimp from the broth and then add them to the risotto mixture.
Lemon Risotto with Shrimp and Asparagus step by step
Cut the asparagus just below the tips, and then on an angle at 1/4 inch intervals, discarding the woody part at the bottom. Peel and devein the shrimp, saving the shells, and half the shrimp lengthwise..
Heat 2 tablespoons olive oil in a large saucepan, add the shells, and cook stirring until they turn pink, about 4 minutes..
Add the broth and thyme, bring to a simmer over medium high heat, reduce the heat to keep the broth at a very gentle simmer, heat the remaining 4 teaspoons olive oil in a Dutch oven or another heavy pot over medium heat..
Add the shrimp and cook stirring occasionally until just pink but not quite cooked through, about 1-1/2 minutes, transfer the shrimp to a plate.Add the shallot to the pot and cook until translucent (about 2 minutes). Add the rice and stir so that it is coated with oil and glossy, about 1 minute, stir in 1 teaspoon salt..
Add the vermouth and cook, stirring constantly with a wooden spoon,until it is adsorbed by the rice. Ladle in about 1/2 cup simmering broth (leave behind the shrimp shells and thyme sprig )…and stir constantly until the rice again absorbs the liquid, adjusting the heat to maintain a gentle simmer. Continue ladling in about 1/2 cup broth at a time,stirring between additions and letting the rice absorb the liquid before adding more..
When the rice has adsorbed about half the broth (about 10 minutes into the cooking process ),..stir in the asparagus and lemon zest, when the rice is al dente after 18 or so minutes of cooking time, stop adding broth.Vigorously beat in the butter, add the shrimp and lemon juice and stir just until heated, Stir in the parsley and remove from heat. Let the risotto rest for a minute or so before serving. Divide among 4 warm bowls and grind a. generous amount of pepper over each, and serve.
Add ½ cup of the broth at a time until desired creaminess is reached (there may be broth left over). It's a vibrant, delicious dish that's packed full of flavor. I love the combination of saffron, lemon, and asparagus. The addition of sweet, plump shrimp makes it perfection on a plate. This is a great Springtime recipe, but I make it all year round.
Related Search